Do you ever dream big? I feel like as kids we were always dreaming big but as adults life has a way of hammering those big dreams out of us.
Lately I have been doing a lot of soul searching trying to figure out what I want to do for the next chapter of my life. I am in my late 30's and I have been a stay at home mom for the last 16 years. I can honestly say that I have LOVED being a stay at home mom. I think it is the most important job in the world and I have never regretted my choice to stay home. Being a mom is still my top priority but lately I have been wanting to do something more. My kids are getting older (my youngest is starting 2nd grade) and I have a lot more time to dream big. I have time to think about what else I want to be when I grow up?
Over the last 4 years I have been trying to figure out what that big dream is? Anyone who knows me knows I am creative and love working with my hands. I love sewing, painting, diy and interior design but I just couldn't figure out what my calling was, what my passion was, where I wanted to spend my time.
I do feel like my mission in life is to "create beauty" in this world of trouble. I have gone back and forth, around and around on what "creating beauty" looks like for me…. blogger? photographer? interior designer? But nothing quite felt right. So I decided to spend this next year exploring, learning new things and taking a few classes.
In my effort to learn new things I joined the website Skillshare. It's an online community of creative people that teach thousands of online classes. There are classes like painting, cooking, photography, graphic design and everything in between. It is $10/month and you can take as many classes as you like. It's pretty amazing.
As I was browsing skillshare and looking at classes I stumbled upon something that completely caught my imagination and made me start to feel giddy inside. I think I may have figured out my big dream. I think I figured out what I want to be when I grow up!
Honestly, I feel scared to death to say it. It is one thing telling my mom or my best friend about my big dreams, but posting it on my blog and announcing it to the world seems terrifying. I mean what happens if I don't succeed? What happens if I am no good? What if people laugh? What if I don't have the skills? What if I change my mind? What if my brain has turned to mush and I don't have the ability to learn new things anymore?
But on the other hand, what if I do share my big dream with the world? What if I decide to choose courage? What if I announce it to the world and I find a little more support? What if I find other people with the same big dream as I have? What if I find a few cheerleaders along the way?
So even though it is scary, I choose courage and I choose to share.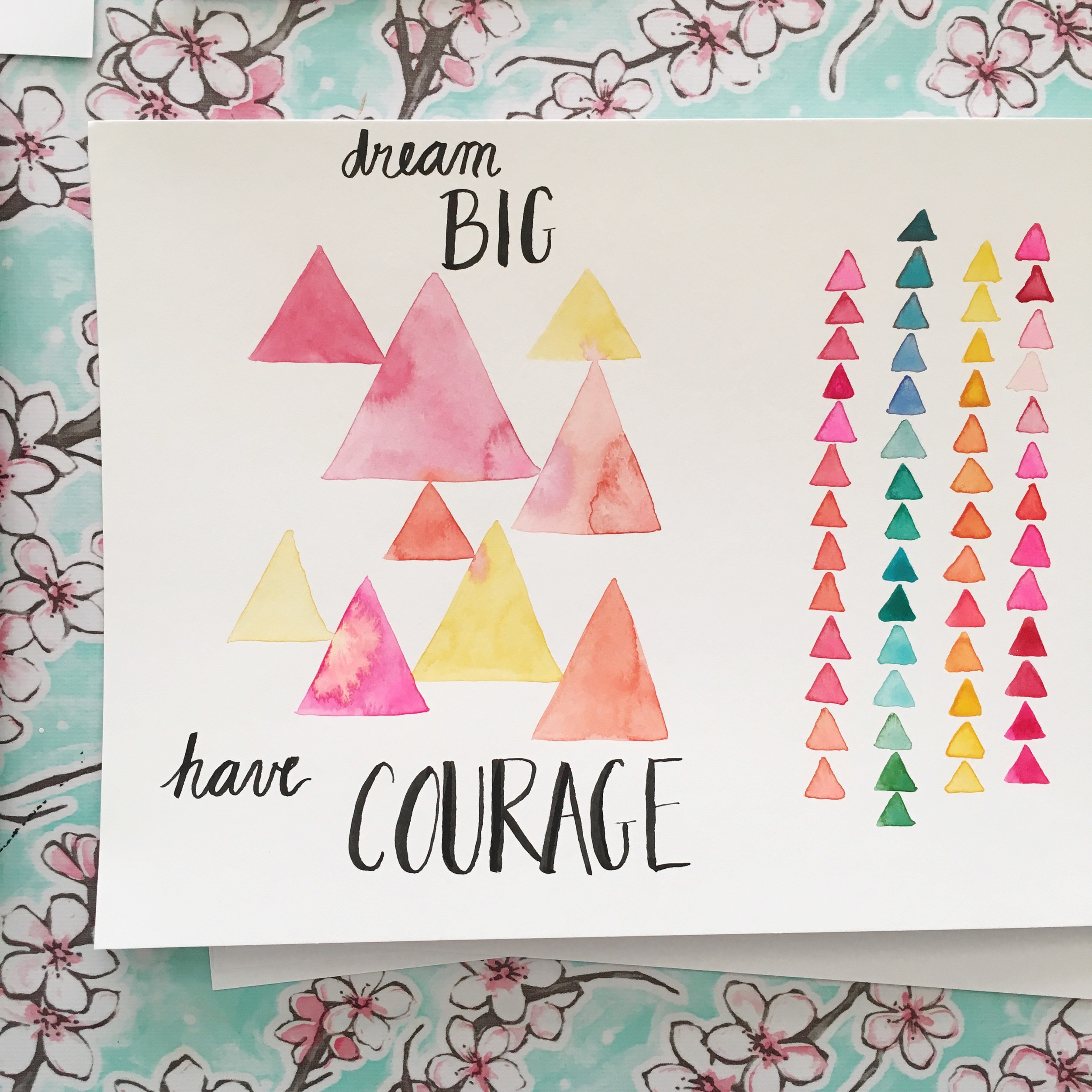 One night as I was browsing the Skillshare classes I stumbled upon a class by Bonnie Christine entitled "Into to Surface Pattern Design: Learn Adobe Illustrator/ Create Patterns". Oh my goodness, oh my goodness, oh my goodness! You guys, this is a class that can teach me how to design fabric! This is a class that teaches me how to use Adobe Illustrator to turn my sketches and artwork into a digital format and create repeating patterns that can be put on anything from fabric to wallpaper to notebooks. Now I know this doesn't sound super exciting to most people but it kind of blew my mind. I always thought it would be so cool to design my own fabric but I had no idea where to even start. Bonnie Christine is a successful surface pattern designer and she shares everything! She shares all her knowledge on the path she took to become a designer, how to design a fabric collection and even how to put together a portfolio. I was honestly getting all tingly inside thinking about it. This is what I want to be! I want to be a surface pattern designer. It combines my love for art, color and pattern. It allows me the flexibility to stay home with my kids but still has the possibility of a career using my gifts and talents.
So now it is out there. It is in the world. I want to be a surface pattern designer. If you want to follow along I'd love for you to find me on social media. Instagram, Pinterest, or Facebook.
If you feel like sharing I would love to hear your big dreams. What do you want to be when you grow up?